Down Syndrome Education Series - SibShops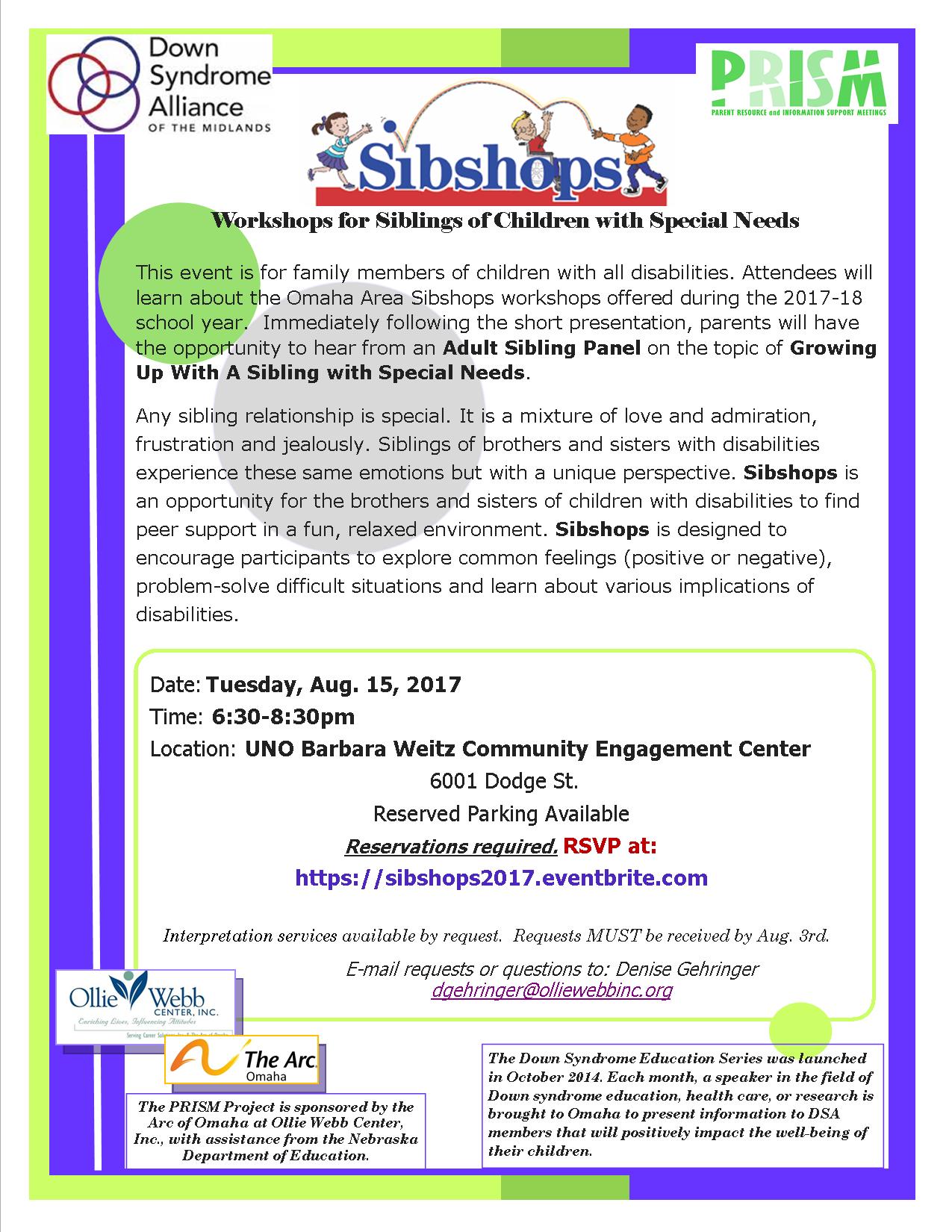 The Down Syndrome Education Series (DSES) is a monthly educational seminar for families of children with Down syndrome, designed to connect parents with information that will positively impact the education and well-being of their child.
In August, we are partnering with Ollie Webb Center, Inc.'s PRISM series to offer a presentation on their SibShops program. Starting in September, DSA and Ollie Webb Center, Inc. will offer the SibShops program every month to siblings, at the same time and location as the Down Syndrome Education Series!
For this presentation, you will register through Ollie Webb's registration site (link at the bottom of the page).
SibShops - Workshops for Siblings of Children with Special Needs
This event is for family members of children with all disabilities. Attendees will learn about the Omaha Area Sibshops workshops offered during the 2017-18 school year. Immediately following the short presentation, parents will have the opportunity to hear from an Adult Sibling Panel on the topic of Growing Up With A Sibling with Special Needs.
Any sibling relationship is special. It is a mixture of love and admiration, frustration and jealously. Siblings of brothers and sisters with disabilities experience these same emotions but with a unique perspective. Sibshops is an opportunity for the brothers and sisters of children with disabilities to find peer support in a fun, relaxed environment. Sibshops is designed to encourage participants to explore common feelings (positive or negative), problem-solve difficult situations and learn about various implications of disabilities.
***Childcare is not provided. With the exception of infants, we request that you refrain from bringing children to this event.